A new website for Text Book Centre
Posted on by Samir Shah
Text Book Centre's new secure, e-commerce site presents their extensive product range in a simple and usable way, and provides a blazingly fast browsing experience for users on any device.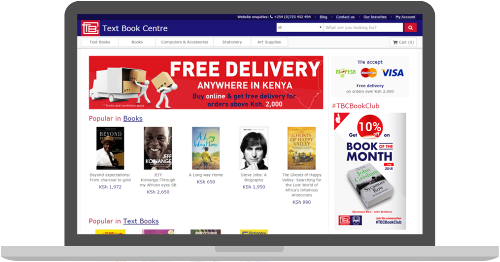 We developed a new e-commerce website for TBC with the objective of addressing some of the fundamental issues that they faced with their old Drupal-based site, including:
Extremely slow page load times, averaging over 30s;
Poor search functionality making it difficult for customers to sift through a catalogue of tens of thousands of products;
Lack of layered navigation to allow users to filter products by price, category and other attributes;
Unfriendly payment process that put off many customers from completing their purchase.
We started with a detailed usability and performance review of the old site, identifying the key areas in which users' needs were not being met, and developing a specification for what an improved system would deliver. This process laid a foundation for the development of a new site, including:
A new content hierarchy and navigational structure for the site, focused on meeting the primary user needs;
More user-friendly and intuitive categorisation structure for TBC's product catalogue;
Guidelines for the minimum requirements for all product listings (descriptions, images, product attributes).
We built a new site on the Magento e-commerce platform, focusing on delivering fast, easy-to-use site for the Kenyan market.
The site is integrated with M-Pesa and credit card payment gateways, providing real time notification of payment to the customer. We also provided integration with TBC's ERP system so that inventory and price data for the entire catalogue is synchronised automatically.
Extensive performance optimisations are in place to ensure that the site is responsive and quick to load. The site is hosted on cloud infrastructure, and content delivery networks are used to ensure and even faster browing experience for customers.
SSL encryption is enforced across the site, ensuring a securing shopping experience for TBC's customers.
Catering especially for students and parents looking for academic books and schools supplies, Text Book Centre's e-commerce site serves retail customers throughout Kenya.