Online payments in Kenya
Posted on by Samir Shah
Online payments in Kenya differ substantially from popular global methods.
Mobile payments are ubiquitous in Kenya and online merchants must accept them.
Credit cards are available to only a small percentage of the population, but still need to be supported for the diaspora. The credit card payment process can be frustrated by manual verification requirements.
Customers in Kenya are still reluctant to pay for goods upfront, and businesses need to address this proactively.
As Kenyan businesses embrace the internet, online sales are set to grow rapidly, and with them, online payments. In this article we review the two main options for accepting payments online, mobile payments and credit cards, and discuss how low customer confidence has led businesses to offer payment on delivery as an alternative.
Mobile payments
To serve the local population, online businesses need to be able to accept mobile payments. Safaricom's M-Pesa is the dominant mobile payment platform, used for 98.5% of transactions by value1. M-Pesa has become the de facto choice for both customers and businesses.
A major limitation of mobile payments is that high value items cannot be purchased due to a transaction limit of KSh 70,000, and a daily aggregate limit of Ksh 140,000 for senders. These limits are imposed by the Central Bank of Kenya to reduce money laundering via mobile payments.
At present there are three methods for accepting M-Pesa payments online:
Third party payment gateways, e.g., PesaPal
Lipa Na M-Pesa
Safaricom's Instant Payment Notification (IPN) service
Payment gateways
A handful of payment gateways have emerged in Kenya in the last few years, all of them claiming to offer a simple way to accept a wide range of payment methods. While they are convenient and relatively easy to integrate, they suffer from two limitations:
They charge transaction fees ranging from 2.5% to 5% depending on payment method and volume of transactions, which are substantially higher than the alternatives presented below.
There are trust and usability issues with a number of the gateways that make for a poor user experience, which can negatively affect the merchant.
Lipa Na M-Pesa
Lipa Na M-Pesa was originally designed for in-person, over-the-counter purchases. It attracts a transaction fee of 1%. The merchant receives immediate confirmation via SMS when a payment has been received. Safaricom does not provide any means of integration with online platforms, however, and the service also does not provide any way to assign tracking numbers to payments.
Some merchants have chosen to use the service for online payments nonetheless, and reconcile payments manually after they have been sent by the customer. While this method is workable for businesses with a small number of online transactions, it quickly becomes impractical for larger e-commerce platforms where automated payment processing becomes essential.
Lipa Na M-Pesa Online
Rather confusingly, Safaricom also has a completely different service called "Lipa Na M-Pesa Online", which operates on a different platform and requires a Paybill number.
"Lipa Na M-Pesa Online" attempts to address the shortcomings of Lipa Na M-Pesa, but to our knowledge has not been successfully deployed due to serious reliability and functionality issues which Safaricom has so far been unable to address.
The service also requires customers to obtain a separate PIN for authorising payments (the Bonga PIN). The process of obtaining this PIN can be difficult and frustrating for users, and makes it impractical to use on an e-commerce site where transactions need to be completed in a short space of time.
IPN
Safaricom's Instant Payment Notification (IPN) service requires a Paybill number. It provides instant notifications of payments that can be received by e-commerce platforms, and also allows payments to include a tracking number that can be used for automatic reconciliation of payments. It has a 1% transaction fee.
While this service also has some reliability issues, it is in our opinion the option best suited to e-commerce at present. The low transaction fees and instant electronic notifications make it viable for integration with large e-commerce sites.
Credit cards
Less than 165,000 Kenyans (0.5% of the population!) own a credit card2. However, credit card payments should still be supported to cater to Kenyans living abroad, who buy goods and services for their relatives in Kenya. This is a sizeable market, with the diaspora sending USD 1.29 billion to Kenya annually.
Processing credit card payments has been difficult for Kenyan businesses. A number of local payment gateways support credit card payments, but a large number of them do not support 3D-Secure verification. This means they have to perform manual security checks on credit card payments, which in some cases involves the payment processor contacting the buyer to ask for proof of identity and a scanned copy of their credit card!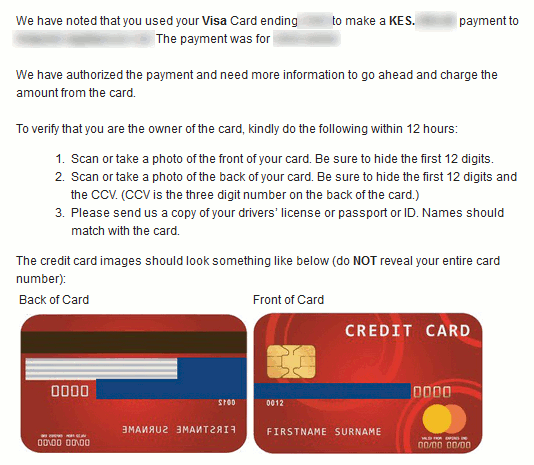 Not surprisingly, a large number of buyers abandon their transaction at the payment stage. Most importantly, they will associate their discomfort and frustration with the process with the brand of the seller, not the payment processor.
Merchants wishing to accept credit card payments online should ensure that the gateway or payment processor that they choose supports 3D-Secure verification.
Customer confidence
Trust is the most significant issue facing online merchants in Kenya today. Many customers are still uncomfortable paying upfront for goods, and receiving them later, regardless of the payment method.
Offering payment on delivery is the route that many online shops in Kenya have taken to mitigate this problem. This of course introduces additional risk and logistical implications for the business. Such risks make payment on delivery undesirable for businesses in the long term, and the objective needs to be to increase customer confidence in the prepayment model which is ubiquitous in other parts of the world.
Two ways in which Kenyan businesses can work towards this goal are:
Improving the quality of websites in general, to make them more professional and reassuring to users.
Putting pressure on payment gateways and processors to provide more reliable, user-friendly online payment services.
Conclusions
As Kenyan businesses continue to go online, online payments and e-commerce are set to proliferate.
Mobile payments have become a key element of online sales because of their their ubiquity. However there are challenges with end-to-end integration of current mobile payment systems with e-commerce sites and merchants need to carefully consider the best option in terms of cost and reliability.
Online merchants accepting credit card payments need to ensure that they select a gateway that does not require manual security checks, as these can be extremely frustrating to users.
Payment on delivery has become a common offering with many merchants in Kenya. This increases the risk and logistical cost of doing business online, and businesses need to try to increase customer confidence in pre-payment options in the long term.
Notes
December 2011 mobile payment figures from the Central Bank of Kenya (reported by Daily Nation).
The Central Bank of Kenya reports that only 162,138 credit cards were in circulation in February 2014. 10.2 million people (roughly 23% of the population) own debit cards but only a small number of these are supported by international payment gateways, and debit cards do not provide the protection against fraudulent use offered by credit cards.