Mobile users account for 50% of Internet traffic in Kenya
Posted on by Craig Loftus
Mobiles and tablets now account for 50% of all visits to websites in Kenya. More than ever, mobile-first design is a priority for any business looking to make effective use of the Internet as a sales and marketing channel.
Back in 2014 we published an analysis of Internet usage trends in Kenya, and noted that the country was poised for rapid growth in mobile Internet access. In the last quarter we recorded a milestone on the Internet sites we monitor: for the first time, mobiles and tablets accounted for half of all visits1.
Mobile penetration in Kenya reached 86% in March 2015, and the number of mobile data subscriptions rose to 18.7 million — an increase of over 40% from the previous year. Mobile Internet access is the catalyst for Internet penetration in the country.
Kenyan websites need to pay attention to mobile users
Hitting the 50% milestone means that now, more than ever, web designers and developers need to design for mobile. Many websites in Kenya are still designed with only the desktop user in mind — thereby failing to address the needs of over half of their audience.
Compare the mobile appearance of the Kenya Revenue Authority (left) and the HMRC (right) websites. The content on the KRA website is illegible on mobile devices as it has been designed with only desktop users in mind. The HMRC website in contrast provides a large search box and a simple list of the key resources a user is likely to be looking for.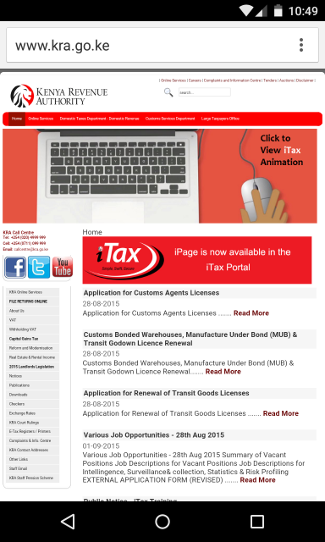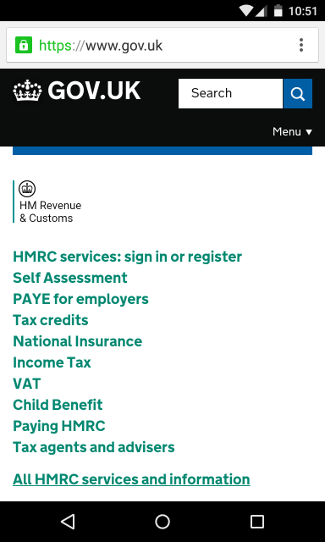 Mobile-friendly design is now a necessity for websites providing key public services or attempting to reach as broad a segment of the population as possible.
However, creating a mobile friendly website requires careful design and user testing to avoid providing a bad experience. The Kenya Commercial Bank website is mobile friendly, but a number of easily avoidable mistakes means it offers a much poorer user experience than the I&M Bank website.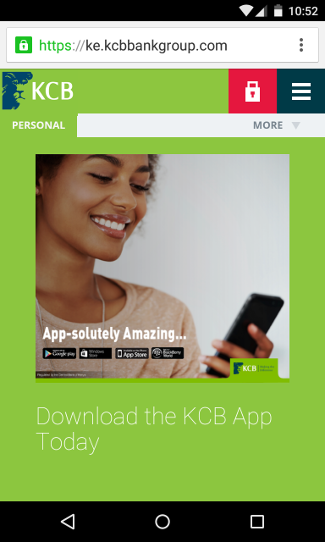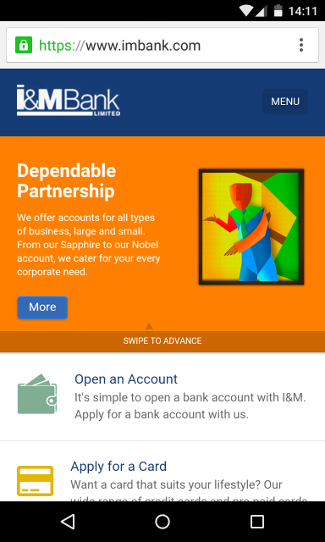 Both the KCB and I&M websites make use of a carousel on the home page. However there is a stark difference in the usability and effectiveness of both. The controls for the KCB carousel are not visible, and the images occupy the whole screen. The content for the carousel is designed like a series of adverts which do not provide the user with routes into the rest of the site. I&M in contrast provide small snippets of actionable content and immediately below the carousel is a list of the key tasks users are likely to be trying to complete.
Both websites make use of collapsible menus. However on the KCB website the user must realise that the hamburger icon will show the menu, whereas I&M goes with a button simply labeled "Menu". Many users are not familiar with symbols such as the hamburger icon, and will be left wondering how they are supposed to navigate the KCB website.
Conclusion
Internet adoption in the developing world, and in Kenya in particular, has leapfrogged the West by jumping straight into mobile Internet with many first time users never having used a desktop or laptop computer to access the Internet.
When designing a mobile-friendly site there are some key considerations to keep in mind to ensure users have a good experience:
Many mobile users are on the go, looking for quick answers to specific questions. It is vital to provide clear, intuitive routes for users to find what they are looking for. Dynamic page elements like carousels are difficult for users to interact with and can hide important information.
It is important to provide all of your website's functionality to mobile users. Except in very rare cases, users should be able to do on their mobile device whatever they could do on a desktop computer.
Speed and bandwidth considerations are paramount. Image-heavy designs, while they might look attractive on desktop devices, can perform poorly on mobile.
Notes
We analysed traffic data from a selection of 30 Kenyan websites between 2014 and 2015.