A new website for Hotpoint Appliances
Posted on by Samir Shah
A redesigned e-commerce site for Hotpoint Appliances that delivered a three-fold increase in sales overnight.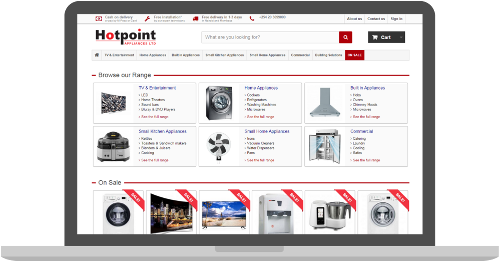 We approached the development of a new website for Hotpoint Appliances in two stages: first, a review of their existing website to identify the problems and areas for improvement; and then, the development of a new website.
A detailed usability and performance review of the old website identified some fundamental issues with the site, including:
Slow page load times, often exceeding 30s;
Inconsistent templating of product and category pages;
Extremely complicated checkout and payment process: we determined that for every 100 customers starting the checkout process, less than 15 saw it through to completion.
This last issue was of particular concern to us, because it pointed to a direct loss of sales from customers who had already made the effort of finding the Hotpoint website and choosing to buy a product.
We developed a new site for Hotpoint designed to address these issues. Our work included:
Developing a new, reconceived checkout process that minimised the amount of information demanded from the customer before they could complete their purchase;
Selection and integration of a new credit card payment processor whose process was more straight-forward for the customer;
Secure integration with Hotpoint's ERP system for automatic synchronisation of price and inventory data.
The results were nothing short of phenomenal: sales on the Hotpoint website increased three-fold on the same day that it was launched. Traffic to the site didn't change overnight: what changed was the conversion rate for those visits. The drop-out rate of 85% of customers starting checkout was slashed to less than 30%.
Since the launch of the new website, we have worked with Hotpoint to develop a strong continuous improvement programme for their online sales division. Over time a number of additional features and improvements have been added to the site, all aimed at increasing traffic and, most importantly, sales. Some of the enhancements that have been added include:
Abandoned cart reminders for customers that didn't complete their purchase;
Automated feedback surveys for all customers;
Automated competitor price checks for key product lines;
Intelligent product recommendations;
We continue to work with Hotpoint Appliances to strengthen their online sales division and consolidate their position as an industry leader in the sector.