Businesses are finding alternatives to SMS communication
Posted on by Craig Loftus
With smartphone usage growing rapidly in Kenya, businesses are finding alternatives to SMS to provide their services. Native smartphone apps and web apps provide the smoothest experience, but come at high cost. Some businesses are looking at messaging bots to provide their customers with relatively simple services in a convenient way.
Safaricom's revenues from mobile data exceeded those from SMS messaging for the first time in 2016. This is attributed directly to an increase in smartphone penetration. Safaricom's 2016 Annual Report (PDF, 8.7 MB) states:
Mobile data revenue grew at 42.7% driven by a combination of a 21.5% increase in 30-day active mobile data customers to 14.1 million, an increased uptake of data bundles and a growth in smartphone penetration…

Data remains our fastest growing revenue stream and we are focused on growing it further through accelerating smartphone penetration… growing 3G and 4G users… and driving adoption of data bundles.
Nationally, the number of SMS messages sent in the first quarter of 2016 dropped for the first time compared to the previous quarter (6.5 billion compared to 8.1 billion)1. It remains to be seen whether this trend continues.
Following this trend, innovative services that were developed using SMS technology have started the shift to internet-based technology. KPLC and Eneza Education are examples of businesses that provide services via SMS but are now exploring the alternative approaches available on smartphones.
Alternatives to SMS
SMS communication is increasingly being replaced by two alternatives: apps and messaging bots. Apps are standalone pieces of software that can be developed to provide a rich experience for users. Messaging bots are services that communicate with customers via established messages services like WhatsApp, Facebook Messenger and Telegram.
Apps can be developed for Android, iOS or as mobile websites. They typically require significant investment in design and testing of the app to achieve the best possible experience for the customer.
Bots are more basic services that offer a considerably simplified experience aimed at addressing very specific needs. Bots can offer a relatively cheap way for businesses to interact with customers through channels that those customers are already familiar with.
In Kenya, bots have the additional advantage of having extremely low data usage which makes them particularly attractive to customers.
KPLC
KPLC now allows customers to check the status of their account via a Telegram bot. The bot allows customers to enter their meter number (for prepaid accounts) or their account number (for postpaid accounts). The bot responds with a message summarising the billing status of the account.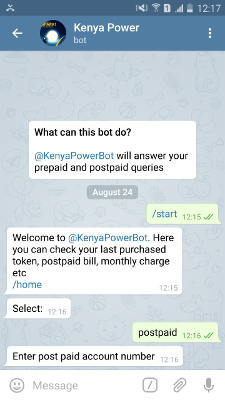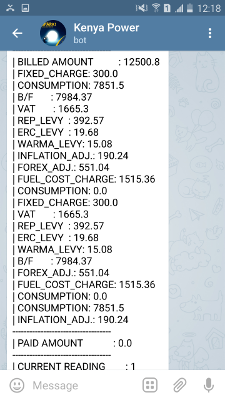 Eneza Education
Education startup Eneza Education provides an SMS/USSD based learning platform for school children. In recent months it has expanded its services to include a Telegram bot, a Facebook Messenger bot and an Android app.
The bot provides:
Lessons on various subjects, with a quiz at the end of each;
The ability for users to track their progress;
A way to ask teachers specific questions;
Extra features, such as searching Wikipedia.
Which bot to back?
Native and web apps are relatively well established option, and can provide customers with rich, highly customised experiences. They come at a relatively high price however. Bots are offering an attractive middle ground for businesses wanting to provide their customers with relatively simple services.
However, bots come with a lot of limitations. From a business perspective, the main limitation are that they are tied to the chat platform they are built for - which means businesses need to carefully assess their audience's platform preference.
The three most popular chat platforms in Kenya are WhatsApp, Facebook Messenger and Telegram.
WhatsApp
WhatsApp is the most popular chat platform among users in Kenya2. While the platform currently has no support for businesses and no support for bots, a recent update to the terms of service indicates that this is likely to change in the near future:
Today, we're updating WhatsApp's terms and privacy policy … as part of our plans to test ways for people to communicate with businesses in the months ahead.

… we want to explore ways for you to communicate with businesses that matter to you too, while still giving you an experience without third-party banner ads and spam. Whether it's hearing from your bank about a potentially fraudulent transaction, or getting notified by an airline about a delayed flight, many of us get this information elsewhere, including in text messages and phone calls.
It is clear that over the next few months businesses will be able to start communicating with their customers through WhatsApp. With over one billion users on the platform, this will be a very attractive channel for businesses.
Facebook Messenger
Facebook allows businesses to integrate directly with Facebook Messenger using Bots for Messenger. They provide a number of features that make it easy for developers to create rich chat experiences including using natural language processing to automate replying to customer messages.
Facebook is explicitly promoting bots as an alternative to traditional SMS notification services, including providing tools to allow companies to find the Facebook accounts for existing customers via their mobile phone number. Unfortunately, the Customer Matching feature is currently restricted to entities based in the US.
There are also currently restrictions on how businesses can use the platform, including a ban on "advertising, solicitations, marketing, or promotional content" for subscription messaging, and limitations on how businesses can re-engage customers.
Telegram
Telegram is considerably more niche than services like Facebook and WhatsApp, but has seen businesses like KPLC and Eneza experiment with it. This is in part because it offers the best support for creating bots. Telegram has no limits on what you can use a bot for, but it also does not provide a way for businesses to send messages to their existing customers without a customer interacting with the bot first.
Conclusion
As the transition to smartphones accelerates, even services targeting relatively low income audiences are starting to provide their services through alternative channels in addition to the traditional SMS model.
Native apps and web apps will afford your customers the smoothest experience but come at considerably higher development cost. They can also have significantly greater data requirements, a factor which is still very important to users.
Bots are offering Kenyan businesses an attractive way to provide their customers with relatively simple services in a convenient way, and are proving to be a powerful stepping stone from legacy SMS technology to fully fledged mobile apps.