A new wave of Web users in Kenya
Posted on by Samir Shah
Smartphones account for 36% of all website visits in Kenya, and 39% in Africa. This is far higher than the global average, and is set to grow rapidly.
Many new users will be accessing the internet for the first time, and this presents a unique opportunity to communicate with them.
Design for mobile is critical. The peculiarities of mobile web browsers that are popular in Kenya must be considered when designing for the local market.
The future is mobile
Mobile phones are ubiquitous in Kenya, and they have revolutionised the way in which people communicate and transact on a daily basis. Ground-breaking services like Safaricom's MPesa have catalysed their adoption.
Mobile penetration in Kenya rose above 77% in 2013, and is steadily growing towards saturation. The next revolution, already underway, is the transition from feature phones to smartphones.
In 2012, smartphone penetration in Kenya was at 13%. With companies like Safaricom moving to push down the cost of smartphones, smartphone usage is expected to rise by 40% each year.
Kenya is on the verge of an explosion in the number of people with access to the Internet, many of them for the first time. This presents an opportunity and a challenge to Kenyan businesses:
Opportunity: mobile opens up direct communication with a large part of the population
Challenge: mobile is a unique medium with unique requirements
Africa is at the forefront of mobile internet
We analysed traffic on a selection of Kenyan websites for the month of February 2014, and compared it with data from across Africa and the World. We aggregated data across all of the sites and analysed the device type and web browsers used1.
Proportion of visits by device type
Device Type
Percentage of Visits
Kenya
Africa 2
Worldwide 2
Desktop
64%
61%
71%
Mobile
32%
36%
23%
Tablet
4%
3%
6%
Mobiles and tablets made up 36% of all visits to Kenyan websites, and 39% African websites, a figure substantially higher than the global average of 29%. The message to businesses is clear: mobile-friendly websites are not optional, unless you want to voluntarily exclude almost 40% of your potential market.
Designing for the Kenyan user
We broke down our data for Kenya further by web browser, to reveal which browsers designers need to concentrate on supporting: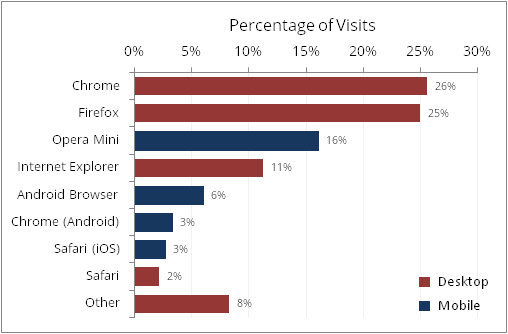 The Chrome and Firefox desktop browsers are, not unexpectedly, the most popular, although we predict that their share of usage will decrease as smartphone adoption increases.
Opera Mini, the third most popular browser, is a peculiarity unique to the region 3. It is a mobile browser that is designed specifically for mobile devices and slow internet connections.
Opera Mini routes all traffic through Opera Software's servers, which process the data before passing it to the client. In particular, content is heavily compressed before reaching the client, and this feature is what makes it so popular with mobile users who are keen to minimise their data usage.
Minimising data usage is clearly a key concern for Kenyan users, and designers need to bear this in mind when designing for mobile.
Reduced functionality in mobile browsers is another challenge. In particular, Opera Mini has limited Javascript support, which means that dynamic applications will not work properly, if at all. Android Browser (at 6%) is also limited compared with desktop browsers.
Priority should be given to supporting the site's key tasks on mobile, however, making all tasks available on mobile is especially important as many Kenyan users will only have the mobile channel available to them.
Conclusions
Mobile internet penetration in Kenya is poised for a rapid expansion in the next five years. Websites, now more than ever, need to be mobile-friendly.
Internet access will become available for the first time to a large number of individuals. This presents a unique opportunity for businesses to communicate directly with this demographic.
Designers and developers need to understand and account for the technical peculiarities of the platforms used for mobile internet.